M&A activity in Asia-Pacific is trending at a post-GFC record: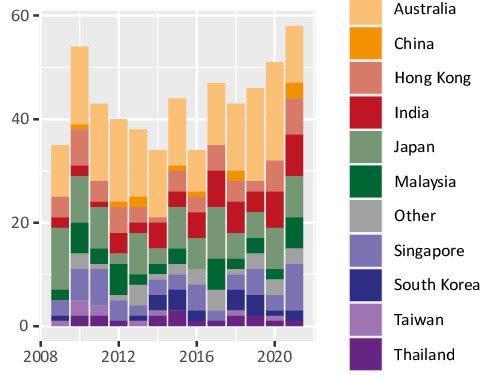 Several drivers exist in our view:
a resumption of deals which had been put on ice during the initial phases of the pandemic;
global equity markets at high valuations make stock-funded deals attractive;
the rise in long-term interest rates since September is creating a rush to complete debt-funded deals before rates rise further;
PE funds continue to raise money in the region, much of which typically ends up funding takeovers of listed companies.
Deals in 2021 YTD are remarkably well-balanced in terms of geography, with no country or region dominating. From a headline-generation perspective however, Japan leads the pack, with increasingly aggressive behaviour on display by all sides. Buyers have launched as many hostile takeovers of Japanese targets year-to-date as in the previous decade. A target company is attempting the first defence via dilutive warrants since Bulldog Sauce in 2007. And shareholders have become ever-more assertive in demanding higher acquisition premiums. Predicting which deals are likely to attract fellow activism-minded investors has become a significant determinant of returns.